Honor Mission for Major Paul Hunter.
Maj. Hunter Served and saw action in World War II, Korea and Vietnam during his service to our Nation.
Maj. Hunter has the distinction of being one of Roosevelt's Raiders during his service.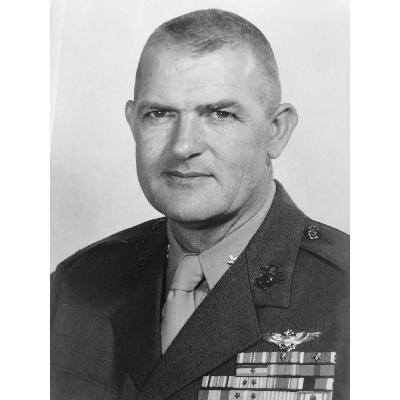 About Maj Hunter:
Major Paul Russell Hunter, USMC, retired, 92, of Jensen Beach, Florida, died on February 12, 2019. He was born on February 15, 1926, in West Palm Beach, Florida, to the late David Glenn Hunter and Margaret Hunter, and grew up in Lake Worth, Florida.
At the outbreak of World War II, Paul dropped out of high school and joined the U.S. Marine Raiders. The Raiders were the special forces of their time. In 1944, The Raiders were incorporated into the 6th Marine Division. Paul was wounded in the battles for Guam and Okinawa. He was awarded two Purple Hearts. In 1945, Paul participated in the occupation of Yokosuka at the time of the Japanese surrender.
After the war, Paul left the service to pursue his passion of flying, by using the GI Bill to become a flight instructor. In 1948, Paul re-enlisted in the U.S. Marine Corps and was stationed at Quantico, Virginia, where he met his future wife, Margaret Ellen Krucelyak. He was accepted into the naval aviation training program. Upon completion of his flight training, Paul was commissioned as a Second Lieutenant in the U.S. Marine Corps and married Margaret.
His nineteen years as a commissioned officer included combat in the Korean War and the Vietnam War. During his career he flew several different types of aircraft, but his favorite aircraft was the Chance Vought F8U Crusader. The F8U Crusader was a supersonic single engine jet fighter. He was awarded the Distinguished Flying Cross and several Air Medals.
REVERENCE HEROS PRAYER
O Heavenly Father,
We gather today, to Honor our fallen Hero – Maj. Paul Hunter
We celebrate his life, and remember the devotion to his Duty and Family.
We will forever keep the legacy that he leaves behind, in our hearts.
We have never met our Hero, but his service to our Country was Heartfelt and Honorable.
We stand here to Honor his life – his service – and his memory.
We know our Hero will find peace and comfort, dwelling in the house of the Lord forever.
Rest easy Sir, – your Tour of Duty is complete.
…you will always be: Never Forgotten – Forever Revered.