Words and Photography by: Phil Galdys Photographer
Some of you may know that I have been shooting for a personal project called Portraits of Patriots. Below is my favorite image to date. Meet 'Pipes.'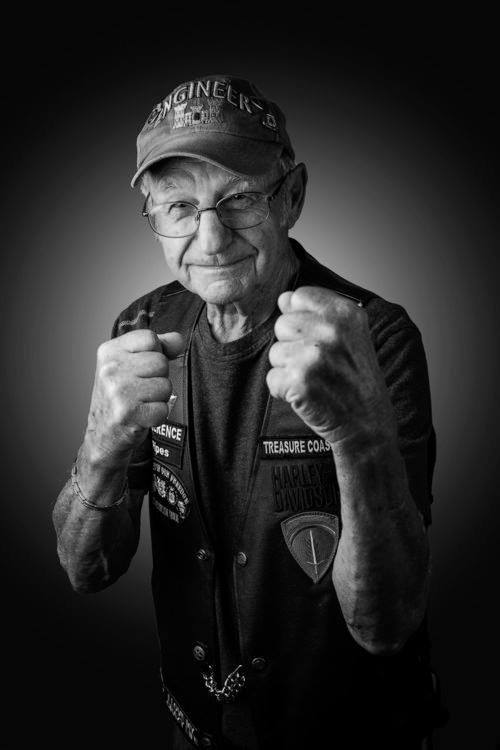 Korean War Veteran and United States Army Sgt. Leon Ayvaz served our country from 1954-1959. Before enlisting at 21 years old, Ayvaz was an amateur boxer in Brockton, Massachusetts. In fact, he lived down the street from the Heavyweight Champion of the World Rocky Marciano in Hanson, Massachusetts.
While in the Army and stationed in Germany, Ayvaz was a Middleweight Boxing Champion in the European Theater from 1955-1956 and was part of the Army's Special Sports Services.
When he wasn't busy throwing punches, Ayvaz was an engineer with the 57th Engineer Company, Daenner Kaserne, Kaiserslautern, Germany.
After the Army Ayvaz worked in a shipyard well into his 60's building cruisers and frigates, which were warships built for speed and maneuverability. Later, he worked for General Dynamics Corp., which has been the primary builder of submarines for the United States Navy for more than 100 years. He worked on the Thresher Class subs during the remodeling phase of four submarines – 614, 615, 638 and 649.
Today, Ayvaz splits his time between Jensen Beach and Stuart with his companion, Donna. He has four sons, three grandchildren and three great-grandchildren. He is the dock master at Jensen Beach Marina and owns more boats than fingers on his jab hand. He is also a member of Reverence Motorcycle Association in Martin County, where he is affectionately known as 'Pipes'. Ayvaz said that he "is a member of the America Legion, VFW, Elks Club and Moose Lodge. Just about anywhere they serve beer."
Ayvaz is very proud of his military service. Through his motorcycle association he regularly assists Treasure Coast veterans in need. If you meet him on the street, shake his hand and thank him for his service. He might even show you how to throw a proper left-hook punch as he did with this photographer. It's something I won't forget anytime soon.